2 Solid Months Off Herb - 60 Long Days/Nights Exactly...
And I am loving life. Yes, I've been quiet my friends because I've focused much time and energy into trying to improve my life and clean up some of the mess I had left in the wake of my addiction.
I gotta say, I love each and every single one of you (Sightblack, Reckoning, SFGayMan30s, ExStonerinHell, Edibee....to name a few). You guys have been absolutely instrumental in getting me this far. To those of you who paved the way before "our round" of quitting, blessings to you as well.
Quitting my 15 year habit has been one of the hardest things I've ever done. I used to be so insecure about even admitting I had a problem.
I would always recall that line in Half Baked
: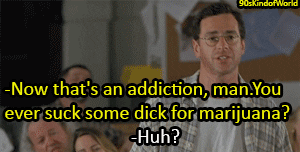 HAHAHA - NO - I never stooped that low. But all hilarity aside, this is how society perceives marijuana addiction. That it is basically a joke, that there is no such thing as withdrawal, that people can't get addicted to weed. It was this myth that kept me going for so long...after all, in my eyes I stood no chance of developing a dependence on something that wasn't addictive. In retrospect, the myths and superstitions surrounding cannabis are instrumental in feeding into the vicious cycle of addiction, at least they were to me. I had to essentially scratch everything I knew, believed, and thought about cannabis and its role in my life and rebuild from the ground up....I don't think I could have quit any other way.
So What's Changed?....
I'm sure for the lurkers, you want to know what's changed in my life since I quit? You want to know if it's worth it? That's a good question, because I'm not going to lie to you, it's definitely a sacrifice to give up a habit like this,
especially
if you've been abusing the drug as long as I have (15 years)...
- I like myself more; more confidence; self-esteem
- I am more communicative, emotionally available and empathetic - I genuinely care for others on a deeper level
- I am more articulate, analytical, and coherent - I am reading instead of getting stoned, planning my future
- Life doesn't seem as "mysterious" or as difficult; I can roll with the punches easier and adapt to change more easily
- I have more $$$ and time to make tangible changes to my life
- I feel more empowered - If I want something I am going to reach out and get it - nothing is stopping me from what I want
These are just a few spur the moment benefits I am listing. The list goes on and on.... To anybody just getting started, say with less than 30 days...I know what you are going through. It can feel like life will never be as good...that's a LIE. Life will get better. If I have learned anything in this journey, its that the majority of the benefits of quitting come with time. It is a game of
deferred gratification
, so if you are at 14 days and thinking nothing has changed, DON'T GIVE UP...Get some time under your belt before your decide if the cons outweigh the pros and vice versa...
That's it for tonight! I'm gonna light a candle and celebrate my 2 month milestone!
-Alex